History Timeline
This is a timeline of my prior artwork from the 1960s until now. I have been involved in art since I was nine and been painting seriously since I was fifteen years old. The following works represent different phases of my work to date. The images were all digitized from slides and so the quality varies tremendously not to mention that they are all studio shots under mixed circumstances.
---
Circa 1963-64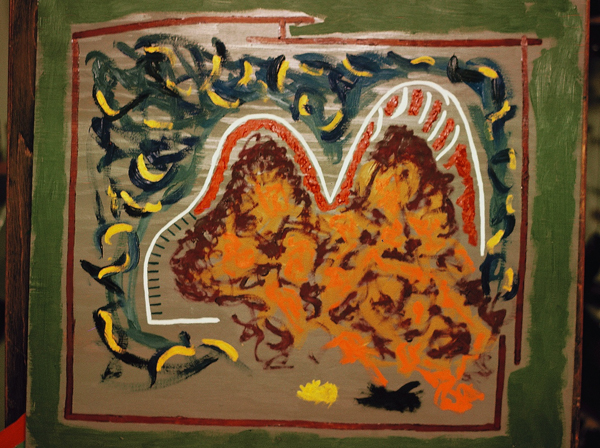 App. 12 in. by 18 in.
These two are from my high school years and were the first abstract works I painted after studying with a local artist, Barbara Meeker, and after my Pollock emulation phase.
---
Circa 1968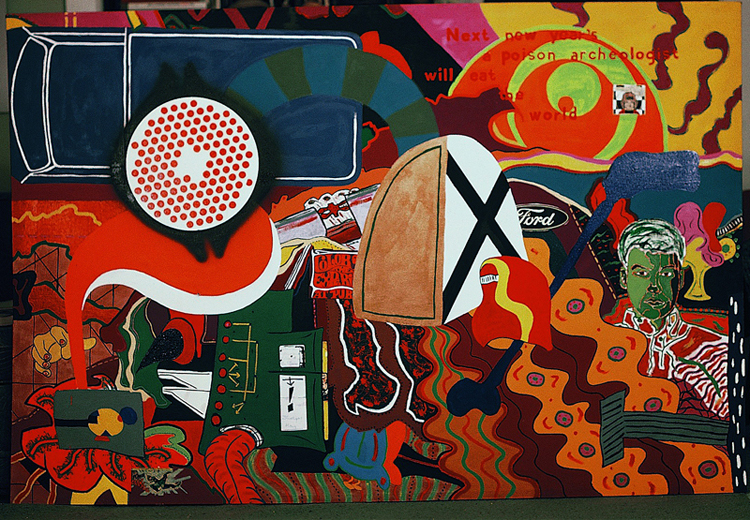 72 in. by 48 in.
This is typical of my work during college. I was trying to fuse a variety of imagery while still working through issues of color and composition. The imagery varies: The blue object in the upper left if the roof of the van my brother and I had at the time (Chevy), and the green visage on the right is my brother. The title of the work is "The Dustbin Gunner" a reference to a gun turret on a WWII Italian bomber. The central shape—half copper color-half X—is the tail of the bomber. The yellow & red helmet shape is a form used in early Mayan writing.
---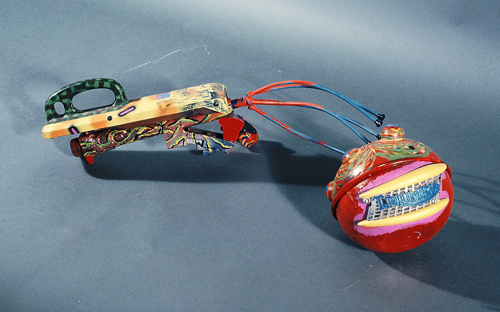 I was also making painted assemblage works at the time and this is probably the most successful one from that period.
---
App. 40 in. tall.
Bill Farrell, my ceramics teacher, asked me to paint a pot he had made in return he gave me a pot for myself. Sadly that pot was damaged before I could paint it so this is the only one I made.
---
Circa 1968-1970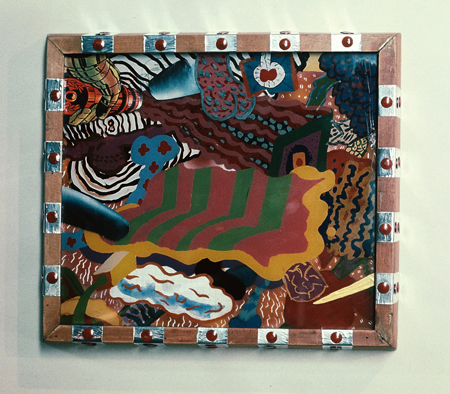 App. 12 in. by 8 in.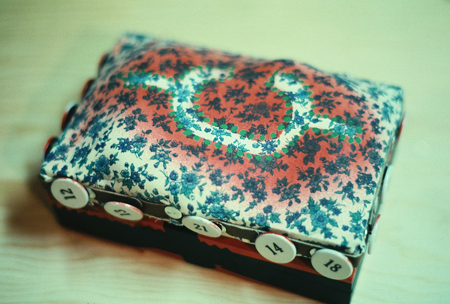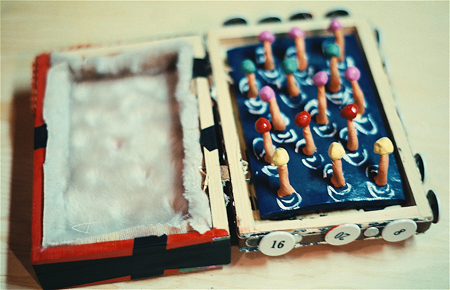 Box app. 4 in. by 6 in.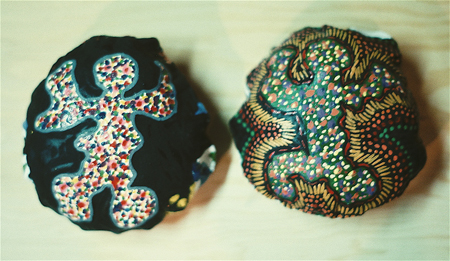 App. 5 in. diameter
There was a large series of semi-fetish works like these. The top one is a painting on glass with decorated frame. There were several box works similar to the second and third images. The interior shape is painted ceramic. The last image is of two wrist pillows which were made in combination with objects to be worn on the wrist. Only the pillows have survived.
---
Circa 1969-1972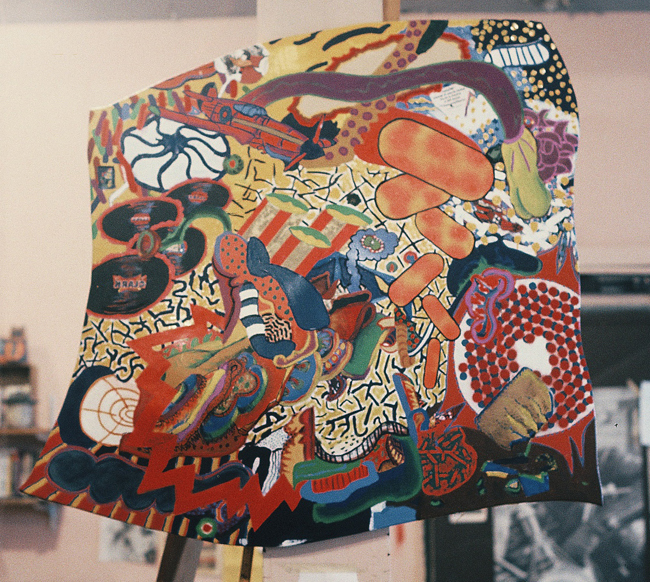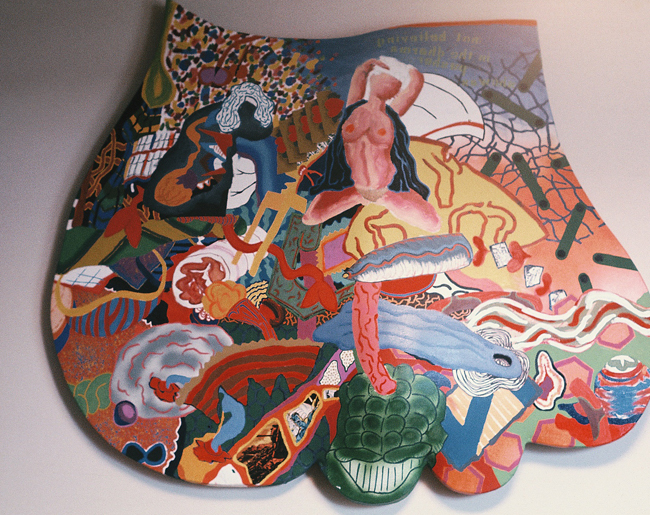 Both paintings app. 4-5 feet in width.
Two of my early shaped paintings. The outer stretcher was cut from plywood and then foam padding was added before the canvas was stretched and gessoed over it to make the paintings three-dimensional. I was still working with various imagery as a means of grounding color and composition. I was trying to work with the composition in the shape using the same methods one would working with a rectangle. Most of the works from this period I felt were reasonably successful in that regard though not as good as they could be.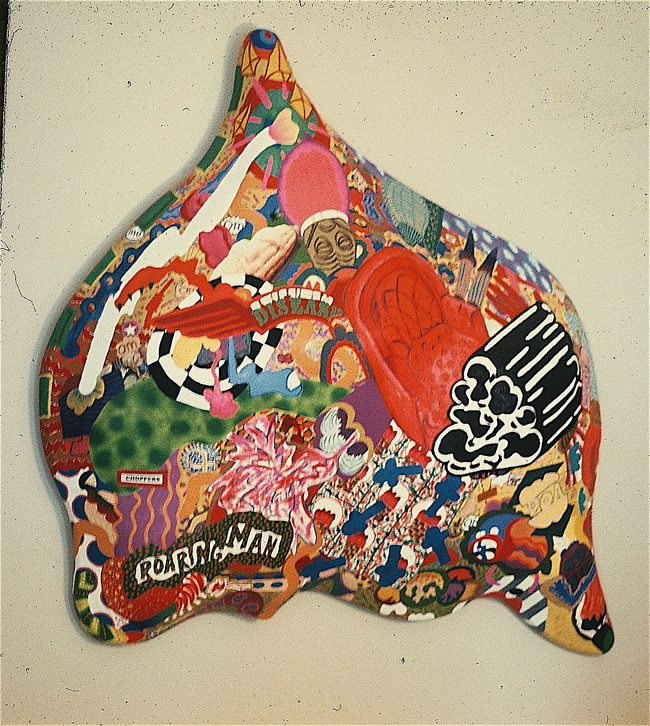 Slightly later app. 4-5 feet wide (and one of my favorites). Was in an exhibit in Cincinnati c. 1971.
---
Circa 1971-1975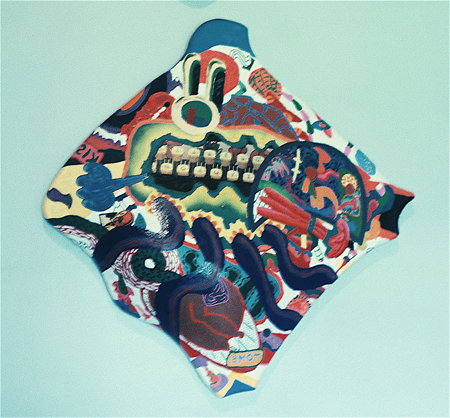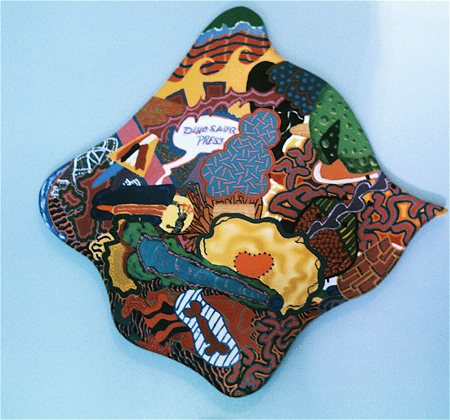 Two paintings app. 28-30 in. wide. From a series of shaped works based on a biomorphic diamond form.
---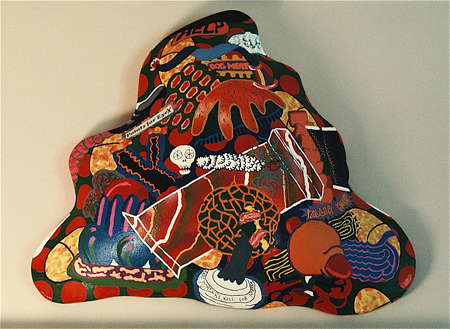 Another shaped painting one of a series of biomorphic triangles. Among the imagery in the painting are vitamin gelcaps, a jello mold, a starfish eating a clam, sea snake and other things I can no longer identify.
---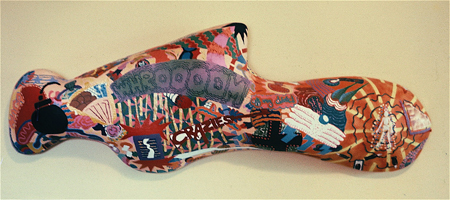 App. 26-36 in. wide.
Two works from a series of long biomorphic shapes.
---
Circa 1971-73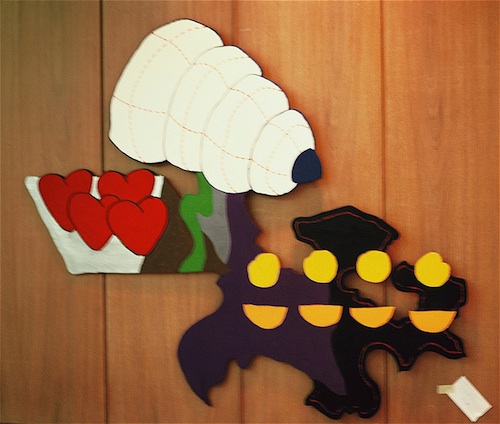 This was the only work I did where the shape was explicit to the painting. That is, the shape and the imagery are the same. I felt this wasn't very challenging as composition between objects without regard to an outer form is much easier than a composition of objects within a form like a rectangle.
---
Circa 1973-1976
| | | |
| --- | --- | --- |
| App. 60 in. high | App. 60 in. high | App. 54 in. high |
The imagery in the earlier paintings as distracting from the basic aims of the work, form and color. People kept looking at the imagery and ignoring the other aspects of the work. And the imagery was sometimes cartoony and unintentionally humorous which I didn't want. As a result I began to work first with grids and then with patterns, using color and geometry exclusively in a tall narrow format.
The interplay of the two patterns was used to visually ground the works and keep them from floating. The schism was suggested to me by an essay in Gyorgy Kepes "Vision and Value" book series.
---
Circa 1975-1983
| | |
| --- | --- |
| App. 22 in. by 96 in. | App 28 in. by 50 in. |
Since the color and geometry didn't require that the paintings be rectangular I began working with different rhomboid shapes. Over time I found these unsatisfactory both as compositional forms and as paintings. The earlier tall format paintings were hard to view up close which I think is as important in looking at a work of art as viewing from a distance. The rhomboids didn't really solve this problem and again they introduced distractions for the viewer.
---
Circa 1980s-early 1990s



App. 120 in. wide



App. 120 in. wide



App. 120 in. wide
Three paintings from the 1980s and 90s. While working on something else entirely, I ended up with a piece of drafting paper with a narrow section of a grid on it similar to the vertical paintings. Realizing this would solve the problem of viewing the painting as a whole, allowing one to see in one horizontal visual scan, it also eliminated many distractions from the concepts I was working with. The horizontal works resembled a wide landscape and even though there was not a direct reference to landscape in the painting this shape would be more visually familiar and comfortable for the viewer. Mondrian had rejected this format in his own work because it wasn't completely neutral. This format proved to be very neutral when using a field of geometry and color. This has been my preferred format for some time, though now I am trying to incorporate some other theoretical aspects into the works and am exploring other formats as well.